Ulaanbaatar / MONTSAME /. The Mongol Ecology Center is one of the NGOs that provides environmental and ecological education to secondary school students. In addition, the center is implementing a Rally for Rangers project to provide technical assistance and support to not only Mongolian rangers, but they also give motorcycles away to rangers in Argentina, Nepal and Bhutan. MONTSAME News Agency interviewed the Executive Director of the Mongol Ecology Center Yo.Badral.
-How does your project help rangers? Where and how did you come up with the idea to start it?
-It all started in 2014 with us giving away 15 motorcycles to rangers of Khuvsgul National Park. Last year, we have also given 15 motorcycles away to rangers of Khar Us Lake and Munkhhairkhan National Park of Khovd aimag. The project will continue its activities in eastern aimags including Dariganga and Numrug National Parks this year. Some of the planned works have been delayed due to the outbreak of COVID-19.
As for the international operations, an Argentinian National Park got in touch with us 2 years ago and put forth a request for us to supply motorcycles to them within the framework of the project. It seemed difficult as we were just a small NGO. Then in 2018, we were able to deliver 15 bikes to Argentina. As the outcome, our international operations have been expanded. In particular, we gave 15 motorcycles away to Nepal last year. This year, we are working to raise money to buy motorcycles for rangers of Bhutan.
-How do you raise money for your activities?
-First of all, we connect the rangers of the specific national parks with the donators or fundraisers. If a person is going to donate a motorcycle, for example, to Mongolia, he or she will learn about Mongolia in the first hand. Then, the national park and its rangers will be advertised for more than a year. When a donator comes to Mongolia, we buy a motorcycle in advance and prepare it. Then, the donator rides the motorcycle for 9-10 days over the steppes and mountains of Mongolia then hand it over to the rangers himself or herself. It creates a good relationship between people. We are still in contact with the donators who even made his contribution back in 2014.
-As for the story behind coming up with this idea?
-Our organization was established with an aim to strengthen the activities and human resources of the country's national parks. Mongol Ecology Center was founded by B.Unudelgerekh. When we first got into operation, there was no such project as Rally for Rangers. While conducting on site research and talking to rangers, we often heard the line "When we go for a call, the motorcycle breaks down sometimes which makes it difficult for us to carry out the duty." One ranger is responsible of protecting an average of 70-80 thousand hectares in the Khangai region and 100-120 thousand hectares in the Gobi region. As it sounded like, it is impossible for just one person to protect this big area of land. In addition, there were no vehicles provided by the country and rangers used to ride their own vehicles at that time. Inspired by this, we made a decision to help people protecting the nature, even if we were a small NGO. We initially decided to raise money for at least one motorcycle, but all the rangers working at Lake Khuvsgul needed 15. Chinese motorcycles can be cheaper. But it must be durable. Then we chose the "YAMAHA-AG200" motorcycle because we thought they needed to have more powerful equipment and bikes than those poaching, littering and doing other illegal things.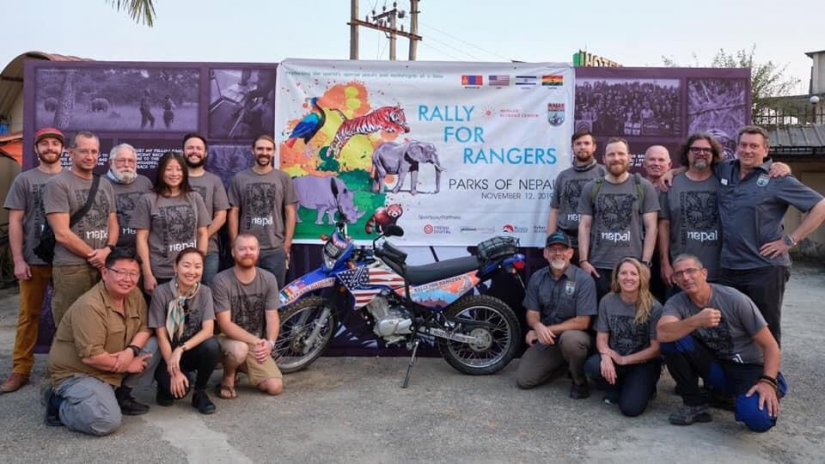 At first, we had no idea on how to raise money for motorcycles. I met people in motorcycle clubs in the United States, thinking it would be understandable for people who are interested in motorcycles. I uploaded a video of us dancing a dance like cheerleader's. That is when people including my friends started donating USD 5-10. It required USD 70-80 thousand to buy 15 bikes, and we tried out various ways to reach the goal. Now, beyond its original goals and activities, it has become a campaign to help rangers in many parts of the world.
-How did you help the Nepalese rangers and supply motorcycles?
-The International Ranger Federation held its congress in Nepal last year. During that time, the federation contacted us. More than 600 delegates from about 70 countries, including Mongolian rangers, participated in the congress. It felt so proud to hand over the motorcycles in front of hundreds of participants. It could be explained us this is how people got to know more about our project.
-How much do Mongolians participate in the Rally for Rangers project?
-Not so often. At first, people didn't truly understand what we were trying to do. But now, we are moving forward with the help of Protek and Petrovis companies and everyone in the NGO. Moreover, two Mongolian youth have joined the board of members. From the very beginning, Protek has supported our project by donating motorcycles and providing maintenance for free. As for Petrovis, they provide the fuel. In general, I think that if we unite under one idea, there is nothing we can't do.
-Do you have a goal to combine tourism with nature conservation?
-I used to work in tourism. I had the opportunity to get into this good cause based on my travel business. People travel to see the beautiful places of nature. All those places are protected areas. The reality is that we are working to put tourism in the right shape and in the right direction. We work closely with the tourism industry to see if people are "just saying" that they love the country or are they really mean it. There are no foreign tourists this year due to the global pandemic, so just the domestic travelers are traveling. In connection with this, various of campaigns focusing on nature conservation.
First of all, everyone should at least learn to travel without littering. Advice and knowledge in this area are being provided to the children from an early age. Children's programs are gaining momentum to change the mindset of Mongolians. On the one hand, we are working with children to influence adults. On the other hand, we are influencing the children to not litter from an early age. We are conducting ecological education in this area with the financing of the European Union.
-What is lacking in terms of environmental protection in our country?
-70 percent of the people working in American protected areas are information workers. These people work to inform people in advance, not after they have done something wrong to the environment. There is less ecological conflict because the workers provide clear information on what is allowed and what is not allowed. Therefore, it is essential to have a lot of information workers in Mongolia who can correctly interpret environmental protection.
S.Tuul