Ulaanbaatar /MONTSAME/. The number of travelers that are led to Mongolia due to its exquisite untouched nature continues to increase with the passing time. While this brings significant economic benefits, it also becomes one of the main reasons for the nature and environment to deteriorate. Countries of the world have become aware of this particular issue, and are taking special protective measures for the locations that attract the most number of tourists and travelers in order to limit deterioration, preserve ecological balance, and pass on the great unrepeatable natural, historic, cultural, and scientific heritage to next generations.
As of today, there are 101 locations in Mongolia spanning 30,274.14 thousand hectares of area that are specially protected, taking 19.36 percent of the country's total area. The locations are divided into four main categories, with 45.5 percent taking strictly protected areas, 42 percent taking national conservation parks, 12.2 percent taking nature reserves, and 0.3 percent taking monuments.
Mongolia is required to have at least 30 percent of the country's entire territory under special protection for regions, ecosystems, and rare and very rare plants and species. This is reflected in policy documents such as 'National Program on Protected Areas' and 'National Strategic Action Plan for the Protection of Biodiversity'. However today, we only have two thirds of the total territory that should be protected alongside insufficient protection management that can be seen from some indicators.
This issue has been focused by the Mongol Ecology Center for 10 years. The center works on introducing the top international practices to management of special protected areas, building the capacity of rangers, and informing the new generations about the environment and sustainable development. During this period of time, various works have been conducted with a total investment of MNT 1 billion on protecting the environment in partnership with foreign and domestic institutions.
Their first immediate focus was Khuvsgul Lake, which receives about 10 thousand tourists and travellers each day following the Naadam Festival in summer. The Khuvsgul Lake National Conservation Park was chosen to be transformed into a model conservation park as it attracts the most foreign and domestic tourists for its beautiful nature and scenery. Despite there being many projects and programs that we hear on the news, there are very few that are properly implemented. For instance, over 20 rangers work near Khuvsgul Lake, with each of them in charge of over 70 thousand hectares of land. As they go through the large area by horse, their work of protecting nature takes a lot of time alongside being not very effective.
A campaign under the name 'Blue Waves' was organized by Mongol Ecology Center to equip 15 rangers of Khuvsgul Lake National Conservation Park and 20 rangers of Ulaan Taiga Special Protected Area with motorcycles in 2014 and 2015 respectively.
With those interested in motorsport from over 10 countries, the campaign was organized in a fun and interesting way, involving them having to travel over 1,000 km from Ulaanbaatar city to Khuvsgul to present their motorcycles to rangers.
Of the staff working at special protected areas around the world, 70 percent consist of staff members in charge of handling information. However in Mongolia, staff members usually handle the role of providing information about the special protected area to the public on the side of their main job positions. As signs, markings and information generally tends to lack, it is also common for citizens to not even realize that they are entering a special protected area.
For this reason, a total of 12 signs and markers for entry points, roads, and the information center that was manufactured as according to the corresponding standard at the sign manufacturing factory of the Yosemite National Park of the United States in 2015. Nearby locations of Khuvsgul Lake that travelers could visit during their trip, information about local wild animals, and detailed introduction of roads as well as trail maps were also made available for the public.
As a result, exchange of top practices between special protected areas of Mongolia and the U.S. kicked off with partnership agreements signed between the Strictly Protected Areas of Ulaan Taiga and Khoridol Saridag, the National Conservation Parks of Khuvsgul Lake and Tengis-Shishged, and the Yosemite National Park in 2015, and official Sister Parks Arrangement between Otgontenger Strictly Protected Area and the Denali National Park of the U.S. in 2017. With this, the staff members and rangers of the two countries' specially protected areas became able to share good practices and exchange information. The corresponding government organizations also should work to strengthen and further expand the relations, noted the center officials.
The staff team of the center has noticed that promoting the view of caring for the environment to adults through children and youth to be more effective than other methods.
Thus, over 110 children of Khatgal and Khankh soums were involved in a summer course to prepare junior rangers in the framework of transforming Khuvsgul Lake into a model conservation park. Following the course, many positive initiatives were put forth by the children. "Some children received the ecological issue so deeply to their heart that they stopped the businesses their parents were running," highlighted the center instructors.
A part of the various work being implemented by the Mongol Ecology Center towards children has been selected by the European Union to receive financing of EUR 557 thousand. The project receiving the funds is the Youth Sustainability Corps project, which aims to build youth capacity for proper management and use of natural resources and cultural heritage, to increase their participation and involvement, and to help them develop into responsible citizens.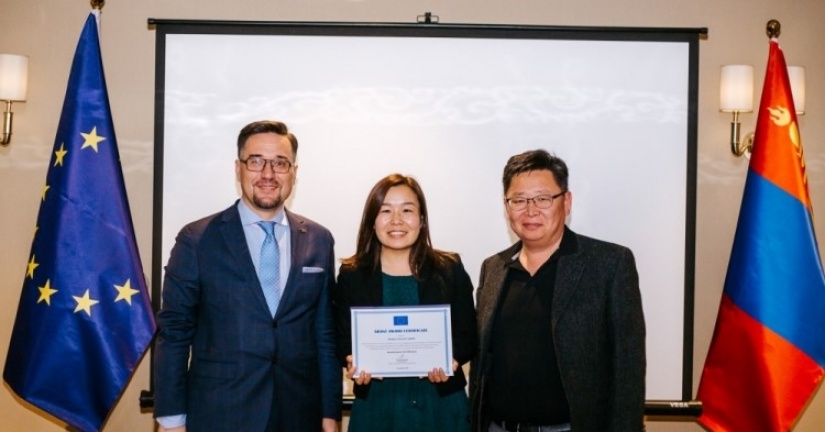 The project aims to develop, motivate, and build the capacity of high school students of schools in the capital city as well as rural areas of Mongolia in 2019-2021. More specifically, providing the implementation of 18 mini-projects initiated by students, involving about 600 students in the activities at 'Manlailal (Leadership)' summer camp, supporting over 100 students in choosing their profession that involves protecting the environment and tourism, and have them be involved in internships, and opening student development halls at 6 schools–various works are planned to be organized in the project framework. Afterwards, the top 6 students from schools in the capital city and rural areas will be selected to be involved in an international student exchange program to learn about global practices being implemented to reach the Sustainable Development Goals.
L.Nandintsetseg